Big Tech continues slide coming out of centerfold earnings week
Big Technology stocks continued to struggle as investors migrated following largely disappointing earnings reported last week.
Meta, hitting another 52-week low, is down 4.2% Monday. Its share value is 25% lower than where it opened on Oct. 24, the Monday of its earnings week. The Facebook parent beat on revenue, but came in under Wall Street expectations for earnings and issues weak guidance for the fourth quarter.
Microsoft shares were down 1.8% Monday, sitting 4.9% lower than where they opened on Oct. 24. The company exceeded expectations of both per-share earnings and revenue, but investors were disappointed when the company reported weaker-than-expected cloud revenue and gave uninspiring quarterly guidance.
Google-parent Alphabet was trading down 2.3% in trading Monday and 7.6% from where it started its earnings week. The company missed expectations for top and bottom lines and said it would cut headcount growth as it attempted to mitigate sliding ad spending.
Amazon slid 2.2% Monday to 15.6% lower than where it opened Oct. 24. Despite reporting double-digit growth in the third quarter, its revenue was below expectations. The company also expects fourth-quarter revenue to come in lower than anticipated.
Apple shed 1.8% during trading on Monday despite reporting stronger earnings compared to its Big Tech counterparts. The personal technology giant beat expectations for earnings per share and revenue, but some product-specific revenues came in under expectations, including for the iPhone. The stock is still trading 3.7% higher than where it opened Oct. 24.
— Alex Harring
Stocks on the move: SBB up 12%, Addtech down 5%
Shares of Swedish real estate company SBB climbed more than 12% by mid-afternoon to lead the Stoxx 600 while compatriot high-tech solutions company Addtech fell 5.5% to the bottom of the index, after their respective earnings reports late last week.
– Elliot Smith
Moody's: Euro zone contraction likely in the fourth quarter
Following Monday's sharp slowdown in euro zone GDP, Moody's Analytics reiterated its projection for a contraction in the fourth quarter.
"Judging by the details released out of Spain and France, we expect to see weaker consumer spending, due to the squeeze on real disposable incomes, with potential upside from government spending and investments," Ross Cioffi, economist at Moody's Analytics.
"Net trade, by contrast, will likely detract from GDP. Even with the better third quarter data, the outlook for the final quarter of the year is little changed. Intense stress on both supply and demand channels will cause a contraction in fourth quarter GDP."
– Elliot Smith
Credit Suisse shares are a 'steal,' say new Saudi backers after taking 9.9% stake
The chairman of one of Credit Suisse's newest and biggest shareholders called on the beleaguered bank to deliver a swift overhaul and return to a "very stable, conservative Swiss banking posture."
"We got it at the floor price. I think the bank has been battered," Ammar Alkhudairy told CNBC's Hadley Gamble on Sunday. "It's trading at less than a quarter of book value, of tangible book value, which is, which is a steal. And it's 160-year-old brand, the brand has a lot of value."
The bank is reportedly set to become the second-largest shareholder of Credit Suisse, second to Harris Associates.
The SNB chairman cited Credit Suisse's investment banking unit as the Achilles' heel of the company, accentuated by the current climate of increased market volatility.
— Lee Ying Shan
Euro zone inflation surges to record high
Euro zone inflation soared to a record high of 10.7% annually in October, up from 9.9% in September, according to new data published Monday.
Consumer price growth across the 19-member bloc had been projected to come in at 10.2% in a Reuters poll of economists, but Eurostat data showed inflation in Germany, France and Italy outpacing expectations as energy, food and imported industrial goods all drove prices higher.
The reading indicates that the European Central Bank will need to continue with aggressive interest rate hikes, having already raised rates by 200 basis points over the last three months, and will further cement market expectations for a recession.
– Elliot Smith
Euro zone economic growth slows in the third quarter
Euro zone economic growth rose by a meager 0.2% in the third quarter, according to preliminary data published Monday.
The figure represents a year-on-year increase of 2.1%, down from a quarterly 0.8% and annual 4.3% in the second quarter, in line with expectations and reinforcing market projections that the 19-member currency bloc will slide into recession during the coming quarters.
– Elliot Smith
Wheat prices rise almost 6% after Russia pulls out of grain export deal
Global wheat prices have started to rise following Russia's withdrawal from the Black Sea grain export deal last weekend.
The most-active wheat contract on the Chicago Board of Trade jumped 5.8% to $8.77-1/2 a bushel around midnight London time, according to Reuters, after earlier hitting a high of $8.93 a bushel. Corn and soybean prices also rose.
The increases come after Russia announced Saturday that it was suspending its involvement in the Black Sea Grain Initiative that was brokered in July and which allowed vital agricultural products to be exported from several Ukrainian ports.
Russia announced Saturday that it was withdrawing from the deal for an indefinite period after it accused Ukraine of a "massive" drone attack on the Black Sea Fleet in Sevastopol in Crimea.
Ukraine has not said whether it was responsible for the attack. President Volodymyr Zelenskyy said Russia's withdrawal from the initiative was "rather predictable" and the global food crisis would worsen.
An aerial view of Sierra Leone-flagged dry cargo ship Razoni which departed from the port of Odesa Monday, arriving at the Black Sea entrance of the Bosporus Strait, in Istanbul, Turkey, on August 3, 2022.
Anadolu Agency | Anadolu Agency | Getty Images
Moscow's move was "an absolutely transparent intention of Russia to return the threat of large-scale famine to Africa and Asia," Zelenskyy said, adding that "access to food has actually worsened for more than 7 million consumers."
The UN and Turkey, which helped Ukraine and Russia to reach the grain deal, have agreed a plan with Ukraine to help move 16 vessels (12 outbound and 4 inbound) that are stuck within the maritime corridor used to export grains.
The organization overseeing grain exports, the Joint Coordination Centre, said in a statement Sunday that "in order to continue fulfilling the Initiative, it was proposed that the Turkish and United Nations delegations provide tomorrow 10 inspection teams aiming to inspect 40 outbound vessels. This inspection plan has been accepted by the delegation of Ukraine. The Russian Federation delegation has been informed."
— Holly Ellyatt
Stocks on the move: IDS up 6%, Verbund down 3%
International Distribution Services — formerly Royal Mail — saw its shares climb 6.8% in early trade after the U.K. government confirmed that no further action would be taken against the postal company relating to the shareholding of Vesa Equity Investment SARL.
At the bottom of the Stoxx 600, Verbund shares fell 3.5% after Credit Suisse cut the Austrian utility company's target price.
Credit Suisse announces sale of 462 million shares at 3.82 Swiss francs
Credit Suisse on Monday revealed that "qualified investors" have committed to buying over 462 million new shares at a purchase price of 3.82 Swiss francs ($3.83), as the embattled lender looks to raise 4 billion Swiss francs in capital.
The expected gross proceeds of the share placement are expected to total 1.76 billion Swiss francs, the bank said in a statement, with the Saudi National Bank (SNB) accounting for 307,591,623 of the new shares to bring its holding of Credit Suisse stock to 9.9%.
The capital raise will fund a massive business overhaul at Switzerland's second-largest lender following a string of scandals and heavy losses.
Read more here.
– Elliot Smith
CNBC Pro: Tempted to buy the dip on tech stocks? Strategist reveals when to get back in
Amazon, Meta and Alphabet's stocks all tanked last week after disappointing earnings, but strategist Dan Scott says investors looking to buy tech stocks on the dip should hold off for now.
Instead, market participants should wait for one important shift, Scott, head of multi-asset management at Swiss asset manager Vontobel, told CNBC.
CNBC Pro subscribers can read more here.
— Ganesh Rao
Traders looking for sign of a slowdown from Fed
Wall Street will be watching the Federal Reserve statement closely this week for signs that the central bank will ease up on its rate hike pace.
According to the CME FedWatch tool, traders believe there is an 80% chance that the Fed hikes rates by three quarters of a point on Wednesday.
That would bring the central bank's target range to 3.75% to 4%.
Beyond that, however, the market looks more uncertain. There is just a 44% probability of another hike of that size in December.
— Jesse Pound
The U.S. dollar has more room to strengthen on rate differentials: Wells Fargo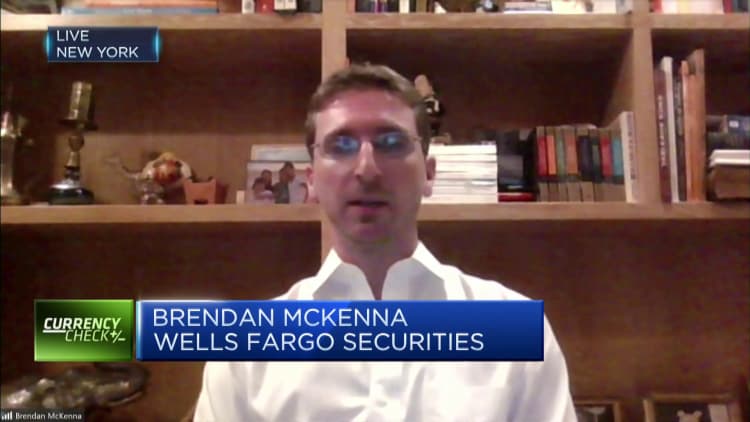 The U.S. dollar is expected to strengthen further due to rate differentials since central banks around the world are taking a "less hawkish" tone, according to Wells Fargo.
"We're starting to see some of the foreign central banks … turn a little bit on the less hawkish side," while the Federal Reserve maintains its hawkish stance, FX strategist Brendan McKenna said on CNBC's "Squawk Box Asia."
McKenna said he expects dollar strengthening to continue into the first quarter of next year "at minimum."
— Jihye Lee
Factory activity in China shrank in October, missing expectations
China's factory activity shrank in October compared with September, data from the National Bureau of Statistics showed.
The official manufacturing Purchasing Managers' Index print came in at 49.2, missing expectations for a reading of 50 — the mark that separates monthly growth from contraction.
In September, the PMI reading stood at 50.1.
China's official non-manufacturing PMI came in at 48.7, compared with a print of 50.6 in September.
— Abigail Ng
CNBC Pro: These 12 cheap global stocks are expected to rally — and analysts love them
Stocks around the world have sold off this year on recession fears and soaring inflation — and are now looking cheap.
Analysts say there could be buying opportunities in some stocks that they expect to rally.
To find those stocks, CNBC Pro screened for names under the MSCI World index that met a number of criteria.
CNBC Pro subscribers can read more here.
— Weizhen Tan
European markets: Here are the opening calls
European markets are set to start the new trading week on a positive note after a shaky end to last week as investors digested the European Central Bank's decision to raise its interest rate by 75 basis points.
London's FTSE index is expected to open 22 points higher at 7,063, Germany's DAX up 73 points at 13,313, France's CAC up 28 points at 6,299 and Italy's FTSE MIB up 75 points at 22,508, according to data from IG.
Regional investors will be watching for the latest inflation figures from the euro zone for October, as well as third quarter gross domestic product (GDP) data.
Elsewhere overnight, shares in Asia-Pacific were mostly higher on Monday as China's factory activity missed expectations, and markets look ahead to the U.S. Federal Reserve meeting later this week when it will announce its interest rate decision.
There are no major earnings or data releases.
— Holly Ellyatt
Read the full article here